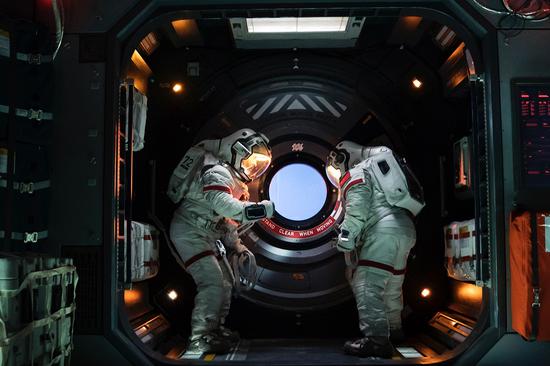 Movie poster of "The Wandering Earth."
The Spring Festival revelry has ebbed and millions have headed back to work, but it hasn't dampened the surging momentum of "The Wandering Earth", which emerged as the winner of the fierce box-office competition during the biggest Chinese holiday.
As of Sunday, the film has already garnered over 3.8 billion yuan (560 million U.S. dollars)-the second highest ever in the Chinese film industry. And Maoyan, China's largest online movie ticketing service, predicts the final figure to stand at around five billion yuan (740 million U.S. dollars).
It hasn't only been a hit in cinemas either as it has been mentioned 1.96 billion times and been part of 400 million discussions on Sina Weibo, China's answer to Twitter.
While the film continues to take the lead after the holiday, many critics and insiders have shifted their focus from the film itself to discussing how it could inspire other films in the genre and the domestic industry as a whole.
What makes a sci-fi blockbuster?
The sci-fi genre was once considered a difficult prospect for Chinese filmmakers, given the large amount of investment required for the special effects.
After Liu Cixin claimed the Hugo Award in 2015, and became the first Chinese winner in science fiction literature, there were high expectations of either an adaptation or an original screenplay from him - but that was ultimately a bonus, rather than a necessity.
-A natural result of the film industry development
"When water flows, a channel gets formed," said La Peikang, chairman of the Board for the China Film Co., Ltd.-the main production company behind "The Wandering Earth" - explaining that the appearance of a domestic sci-fi film is the natural result of the development of the Chinese economy, which has also expanded the scale of the film industry.
In the past, the technology for the special effects wasn't good enough and the investment risks were too high, but sooner or later, we (the Chinese) needed to have our own sci-fi film productions, La said, and revealed that pre-production on "The Wandering Earth" began at least six years ago.
"We can't always repeat the stereotypical genres, focusing on the ancient dynasties, martial arts, romances and children's movies. We need a diversified structure. Back then (six years ago), we believed that what we lacked was the sci-fi genre," said La, adding that it will provide a huge space for film producers and directors.
-A rising generation of filmmakers
Luck was needed to get Frant Gwo onboard, La said, admitting that the company did try to find a foreign director to take over at the beginning, only to find most of them were unavailable.
"He has done a lot of research into sci-fi films, and has the passion for it and interest for it. He was well prepared, with a lot of research in the field, so he was the right person," La said.
As part of China's latest generation of filmmakers, Gwo's talent and persistence has impressed the producers.
"Without three to five years' of intensive and meticulous work and planning, no one could make a good sci-fi film," La said.
During pre-production, Gwo and his crew prepared more than 3,000 conceptual designs, over 8,000 storyboards, and at least 10,000 physical props. Starting with dozens, the team has gradually expanded until 7,000 people were part of the crew. 75 percent of the computer-generated-image (CGI) effects were completed by a domestic companies such as Base FX, which has studios in Beijing, Wuxi and Xiamen.
-Adding a Chinese spirit to a well-worn genre
Being the first Chinese major sci-fi film, "The Wandering Earth" has to some extent broken ground for a new genre.
But while many are drawn by the grand scale of the movie-a key image is a show of the Earth itself being propelled by thousands of thrusters-what's more noticeable is the Chinese culture, values and sentiments in the texture of the film, offering a new twist on the genre.
A major theme of the movie is homecoming, as represented by the film taking place during Chinese New Year, but this is more than just a novelty for viewers, it represents centuries of Chinese history that has been absent from this type of genre.
"Chinese films don't have superheroes. Most of them are ordinary people. Everyone in my movie is ordinary," said Frant Gwo, "but their decisions and actions ultimately make them heroes."
"This might be leaning towards collectivism, which is familiar to the Chinese audience," Gwo said. "Chinese films should have our values, a Chinese soul, that's to say the values do not have standards. There is no good or bad value. There are only different cultures."
And judging by the feedback, this Chinese soul has not only appealed to Chinese viewers, but Western ones as well: "The Wandering Earth" has so far earned 3.82 million U.S. dollars in North America, topping all other Chinese films shown in that territory.
A definite milestone, but what's next?
While talking about "The Wandering Earth", critics and insiders have all chosen one specific word to describe what the film means: milestone.
Having been such a hit, it is not hard to imagine that there might be a number of similar movies in the pipeline.
-Potential gold rush for sci-fi films
La Peikang said he was sure that a number of distinctively Chinese sci-fi films would hit the big screen in the next couple of years, meaning there is likely to be investment fever in the genre. That is also what Gwo expects from his movie, that it will inspire more filmmakers and bring in more investment.
"We've been considering whether we could do a spinoff," said La, adding that China Film Co., Ltd. will release another two sci-fi films later this year, both with the same production values as "The Wandering Earth".